Rank Higher On Google Maps In 7 Steps
Google Maps is a powerful marketing tool to get both your business embedded deeper into the Google system. Google likes business that have many touch points (registered site, Analytics, You Tube, Maps & more). All of the touch points are free to created and allow Google to know you are a genuine business and not just someone trying 'black hat' techniques to trick the search engine.
The other feature is Google will register your product for the area, so you are much more likely to be found by local searches (if you want to know more about local marketing in more details, look at our site tags). However, being found locally doesn't guarantee how it will rank in the local listings.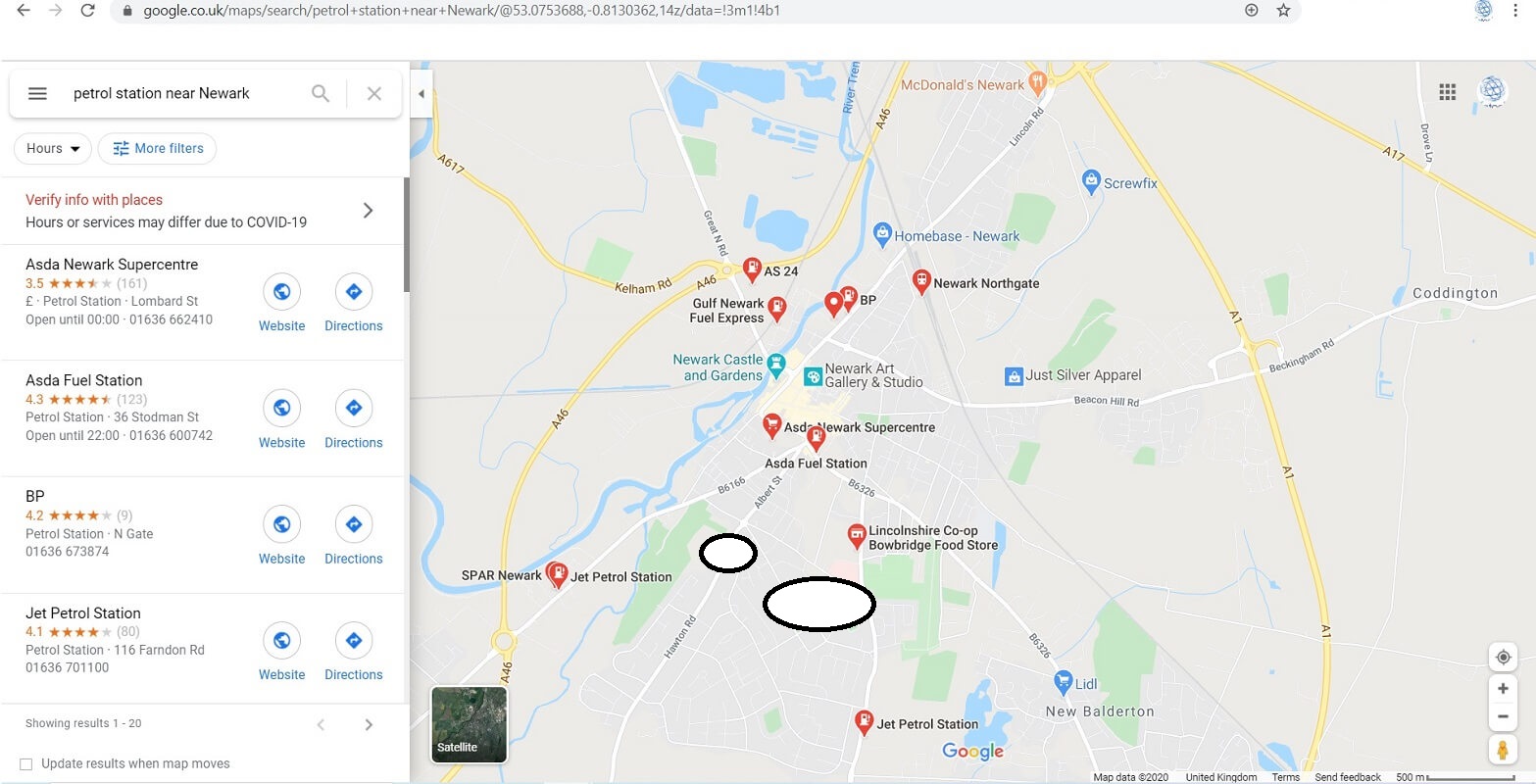 As you can see from the above, the searches are shown in an order and if you are searching for a subject with a lot of listings (local take-away shops for instance), then you may not even show. So how do you rank higher? You give yourself the best chance by integrating your business into the database of Google (other factors are at play, but you cannot control all of them).
Is It Important To Rank Higher on Google Maps?
There are four very good reason why you should ensure your business integrates fully with Google Maps:
1. Research shows that Google Maps is the navigation choice of majority of consumers, and those who are passing through always tend to select the top listings due to time constraints.
2. Research shows that users on Google Maps tend to look for a solution based keyword and not business name. So anyone travelling through an area in need of fuel, B&B, parking, cafe) will type the word in. Locals who know a business name, e.g. Cake & Pie Cafe, are more likely to type the business name in (maybe to find an opening time or phone number). So you need to ensure you think about search words based on benefit, what a consumer will type in if they are not sure (in both broad and narrow terms).
3. A local consumer who is after a local supplier (e.g. home user may be after a gardening service, local garage may be after decorator to repaint the buildings). Whatever the service, some rely on word of mouth, others look on Google Maps to see who is near and can come and quote.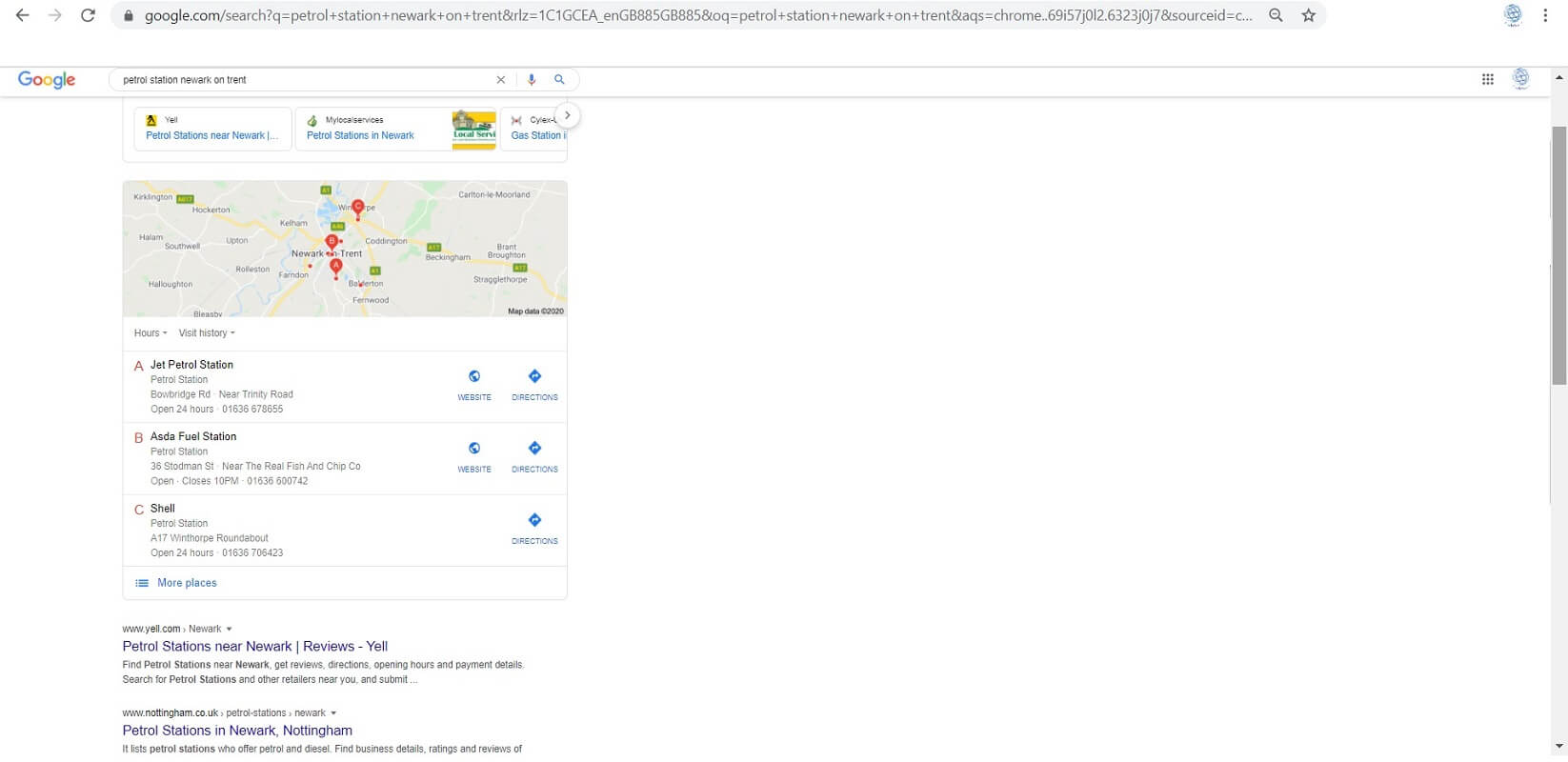 4. You drastically increase the ability for a standard Google search to bring your site up at a relevant level; esp as Google can target your IP address to a locality and show you more relevant searches. This means, a local user on Google, looking for a supplier of flowers in a locality are much more likely to have a Google Maps listing come back, as per the image.
1. Get a free Google My Business account.
Once you set this up, you can pull up Google Maps and search for your business.  Having a Google My Business accounts gives you so much control over the whole process of your Google Maps listings.
2. List your business on Google maps & claim it.
Go to Google Maps, search for your business name and, if it doesn't appear select 'add a missing place' and if it does; try and select ownership. Google sometimes lists businesses for information, but without any ownership; you go through the claim ownership process so you can follow the other steps.  Having set up your account in the prior step, this makes this process fast, easy and effective.
3. Fill our your Google Maps profile.
This is where you can start to give some flesh.  You can fill out your business information in the manner it will show to people browsing.  Go go your Google My Business account and then on our dashboard you will see a list of items on the left hand side.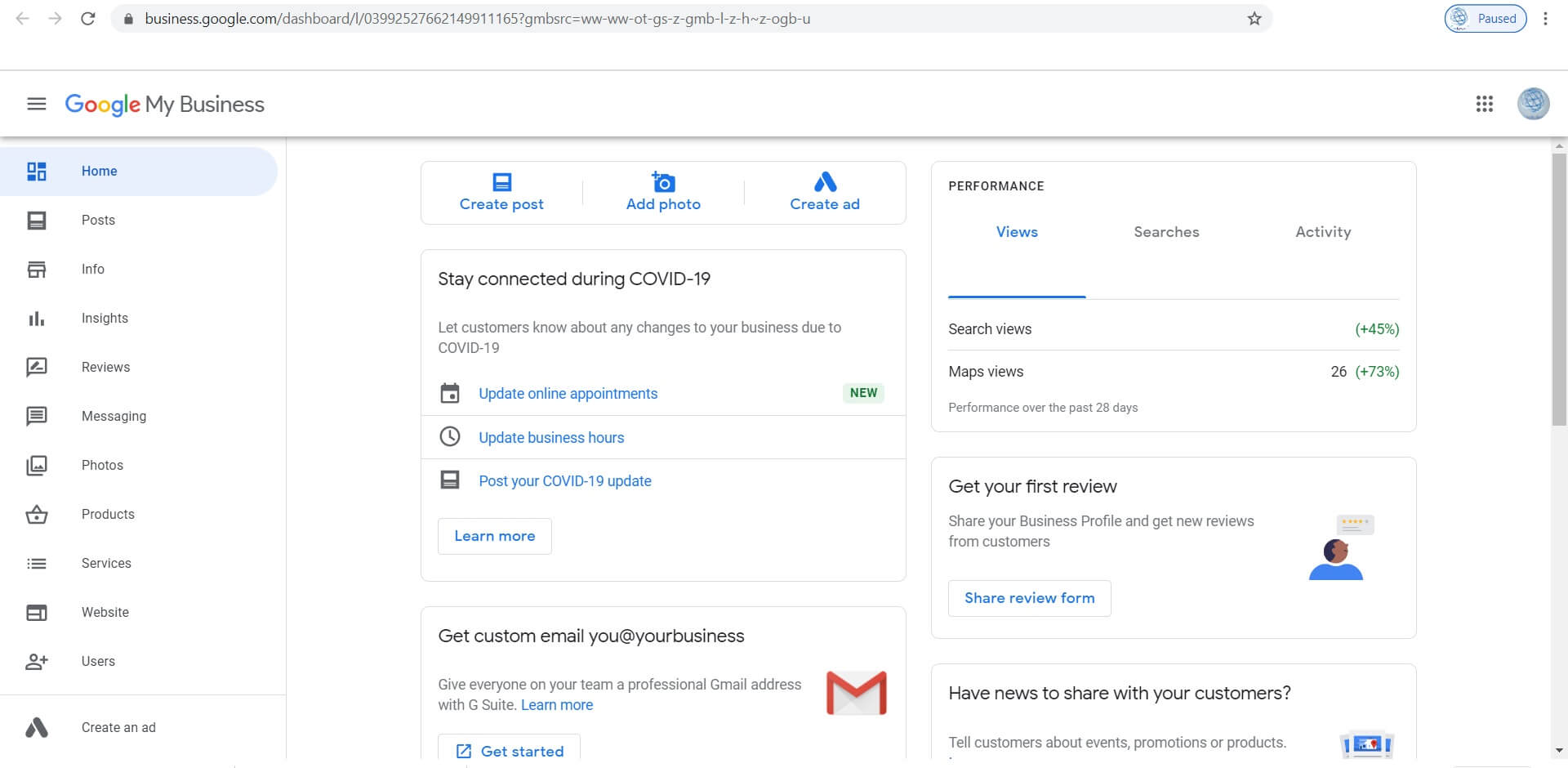 You can see options on the left to add in information about your business and, centrally, it shows you details on visitors, quick starts to create adverts, updating key areas and so much more.
Minor Points To Note:
1. Use a Genuine Phone number, local numbers that tie in with the area.
2. Ensure your address is always filled out with consistency, e.g. full street names and that this matches other profiles where your account is (e.g. Facebook, Shopping Platforms
3. Keep your hours updates, especially during COVID-19, Google My Business sends out regular reminders to keep your information relevant and updated.  If you are showing open when you are closed and someone makes a trip out to you, they are more likely to leave a negative review – this will hit your ranking.
4. Get a good business description, this aligns in with your goals and lets anyone browsing know exactly what your business is about; giving them a reason to respond – or not respond and avoid disappointment and negative feedback.
4. Images! Google loves Images and Visitors Do.
Google loves images. Customers respond to images. Without images, you are left with more generic placeholders that do not wholly reflect on your business. If your business has a range of products/services, get some good images that reflect these.
Keeping this refreshed by regular updating (as you would also on your social media & website), keeps your listing refreshed as being actively updated (another 'tick' for Google). SEO note: remember to name them properly so Google Images also can sort them properly.
5. Reviews Help and Google Loves Them.
Reviews are loved by Google, it is one tool that helps Google know if your site, service & products are relevant and fit the brief as to what the user was looking for.
At the heart of Google is the objective of ensuring content is relevant to what your expectation of a search result is.
Getting good reviews is a key part in helping to grow your business, good feedback = better listings. Good feedback = more trust & recommendations.
Whoever runs your marketing, should have this in the portfolio of your business activity. Once set up, it doesn't take much time to then manage.
6. Regular Updates & Regular Reviews.
The person, Agency or yourself, should be aware that if you do content repurposing (if you are unsure about this, just ask one of our team – it's a separate subject).   Logging on frequently to update images, videos, post new content is also an ideal opportunity to examine what you have up there.  Cast your eye over it, ensure it is still relevant, your times are still current, articles are not dated with content that has moved on and more.
This way your site is updated, renewed, relevant and will engage your visitors.
7. Website Integration.
Integrating Google Maps back into your website is a very useful way of creating a marketing & SEO feedback loop! If you don't have a website, but you have a local business (e.g. a local cafe, registered on Google My Business to show you are local and on Google Maps) but without a website; you should consider one.
There are 3 more things you can do today with a website (essentially targeting it more for local searches):
1. Add a Google Map onto your website. This reinforces with Google that your business is where you say it is and it can be a good way for people to share your business on Social Media pages with a recommendation!
2. Ensure your site has keywords. On your website ensure your locality, service and 'benefits' (we spoke about earlier on) all match up with the words on Google My Business. This allows the search engine looking for relevant content to link your site with My Business in the search results; as well as having your site registered on My Business.
3. Ensure your site is SEO Compliant. Google has a whole range of indicators that need to be met for a site to rank high (or if not met, to keep it buried beyond your competition). Ensuring your site meets the indicators plays a key role in ensuring your site is fully compliant.
When you match a website to your Google My Business account makes both your Maps and Website much more powerful in terms of being an effective communication and marketing weapon.
Do You Want Help With Anything Mentioned Above?
These are some of the key areas mentioned above, if you have any questions, please use the chatbot, social media contact (footer) or form below:
Setting up a Google My Business Account?
Having a business website?
Learning more about SEO?
Learn about Google website compliance?
Content repurposing?
Customer feedback?
Contact Our Team Now For Support.